NOTE:
Some potential game spoilers may be discussed. As before, these paragraphs shall be preceded by the visage of the walking spoiler himself, Sean Bean.
Ain't he pretty.
Now then...
Sometimes you can get more from a sad ending than from a happy one. A happy ending makes you feel good. It might give you hope. A "bad" ending can give you something different, something equally valuable.
The best way to learn is by making mistakes, or witnessing the failure of others. Failure and defeat are painful, but you know what? That's a good thing. It's good to associate failure and defeat with pain, because that's how you learn how to avoid them, thereby exerting more effort into avoiding failure, thus improving your life. That's exactly what a sad or "Bad" ending is about.
My favorite example of this is the "In Water" ending of "Silent Hill 2", classically considered the "Bad Ending" result. In this iteration of the story's conclusion, the protagonist James Sunderland has been searching the ghost town of Silent Hill for his wife. He had received a letter in the mail written by her hand asking him to come to the town, which she calls their "special place." Before the place went to Hell (literally, some would say), it was a popular lakeside tourist spot where James and his wife, Mary, spent their honeymoon. Also, she died due to an unnamed terminal illness three years prior.
"Does that sound suspicious James?" "Yes, Other James. Yes it does."


As the story unfolds, James' state of mind becomes more and more questionable. The player can check his item inventory to look at Mary's letter throughout the game, but towards the end the letter turns into a blank piece of paper without a single mark on it. At the end of the game, it disappears from his inventory, as if it never existed...and then we learn something terrible about James and Mary, something so horrible it's impossible to ever look at James the same way again. The resulting guilt from the event in question is the kind of thing that could traumatize a person into developing retrograde amnesia, or even undergoing a fugue state. Either case is plausible for James, though neither are ever confirmed.
You have Bean warned.
When the game is over, if the player unlocks the "In Water" ending, James realizes that his wife is dead and gone, and he finally faces what he has been afraid to admit all along: he may never find the closure he needs. In a somber soliloquy he says that he now remembers why he came to Silent Hill in the first place, then drives his sedan into the lake.
We attached ourselves to James and so he dragged us through his personal Hell, and we learned things about the man
in tandem
with his own self-discovery. Even after hours of struggle and perseverance, James can potentially lose. The point of the "In Water" ending of "Silent Hill 2" is not necessarily nihilistic, however. The way the story came together in this ending wasn't that James had failed in Silent Hill. He came to Silent Hill with a purpose, but if "In Water" is the ending the player earns, the meaning of his struggle through the town's egocentric purgatory becomes this: since we started playing, his war had long since ended. He had already failed, but it took the full stretch of the game's events for him to realize it.
Now, in this ending, James' self-discovery didn't yield anything constructive, it must be stressed. The player learns what kind of person James is at exactly the same rate that he does, like we're living his life. The other possible endings are made possible by playing the game in subtly different ways. The "In Water" ending involves looking at Mary's letter frequently, and maintaining low health through the majority of the game. If you, the player, choose
not
to play in ways that suggest James continuing to dwell on his grief or neglecting to take care of himself, James finds closure in Mary's death and leaves the town with a renewed sense of optimism and stability. It's this contrast between these two of many possible endings that give the other meaning. In one scenario, James finds it in himself to move on; in the other, he submits to grief.
In both versions, the epilogue of the game comes in a voice-over reading of Mary's letter by Mary herself. She reads the "full" version of the letter, in which she tells James that despite everything that had gone wrong, he had made her happy, and her last wish was for him to find his own happiness without her. The "good" ending implies that this is what indeed happens. The "bad" ending opts for tragic irony that makes the consequences of James' decisions weigh far more.
Spoiler: this game gets pretty dark.
The "good" ending shows us that with perseverance, there is always a chance that things can work out...but the "bad" ending shows us that giving up may be far worse than failure. Which of the two arguments is more convincing?
Feels.
I recently finished "Amnesia: The Dark Descent." The protagonist, Daniel, is in a similar situation to James: he cannot remember why he is where he is or what he was doing there, but various cryptic signs tell him that he must progress into danger in the pursuit of some higher cause. He finds a letter he apparently wrote to himself telling him to find a man called Alexander von Brennenburg in his castle's inner sanctum, and kill him.
A big Sean Bean because the next three paragraphs include explicit spoilers.
You have to feel sympathy for a character before you can learn why they do what they do, or why such behavior is a good or bad way to be. Otherwise it's far too tempting to disregard their moments of weakness and loss as merely poetic justice, or worse, superfluous. This turns an "evil" character into a concept that is not considered by the human mind to be a human being. When that happens, we cannot learn from their mistakes because we cannot relate, and so it's easy to say, "of course he/she turned out wrong. He/she is a bad guy." Rather than, "of course he/she turned out wrong. He/she made a series of non-conscientious decisions that turned out to be huge mistakes." That's something "Dark Descent" pulls off very well. At first the player knows nothing about Daniel but over time learns what kind of man he is piecemeal; he is an educated man, fairly wealthy with an adventurous spirit.
However, something happened to him in Algeria, and since then a "Shadow" has been stalking him, one which Alexander promised to help him get rid of. In doing so, however, he told Daniel that he must do things that make him far less sympathetic. What's worse, Daniel complied.
One ending has Daniel killing Alexander and leaving the castle, the shadow claiming Alexander instead of him. He walks out peacefully and everything from the bright, angelic lighting of Castle Brennenburg to the wispy, peaceful soundtrack seem to imply that he has found some sort of redemption, or at least that his own crimes have been made irrelevant. That's the "normal" ending. The "good" ending has Agrippa, a character encountered towards the end of the game, saving Daniel's soul after his body is destroyed by the Shadow, and just before the credits roll his voice tells Daniel that "everything is going to be all right." In the "bad" ending, Alexander escapes, leaving Daniel to be slowly and painfully consumed by the Shadow. As this happens, for a gruelingly slow thirty seconds of the game, Daniel's ears are filled with the cries of his victims and their pleas for mercy. Instead of Agrippa's voice, the game ends with Alexander's, thanking him for all his hard work and sacrifice.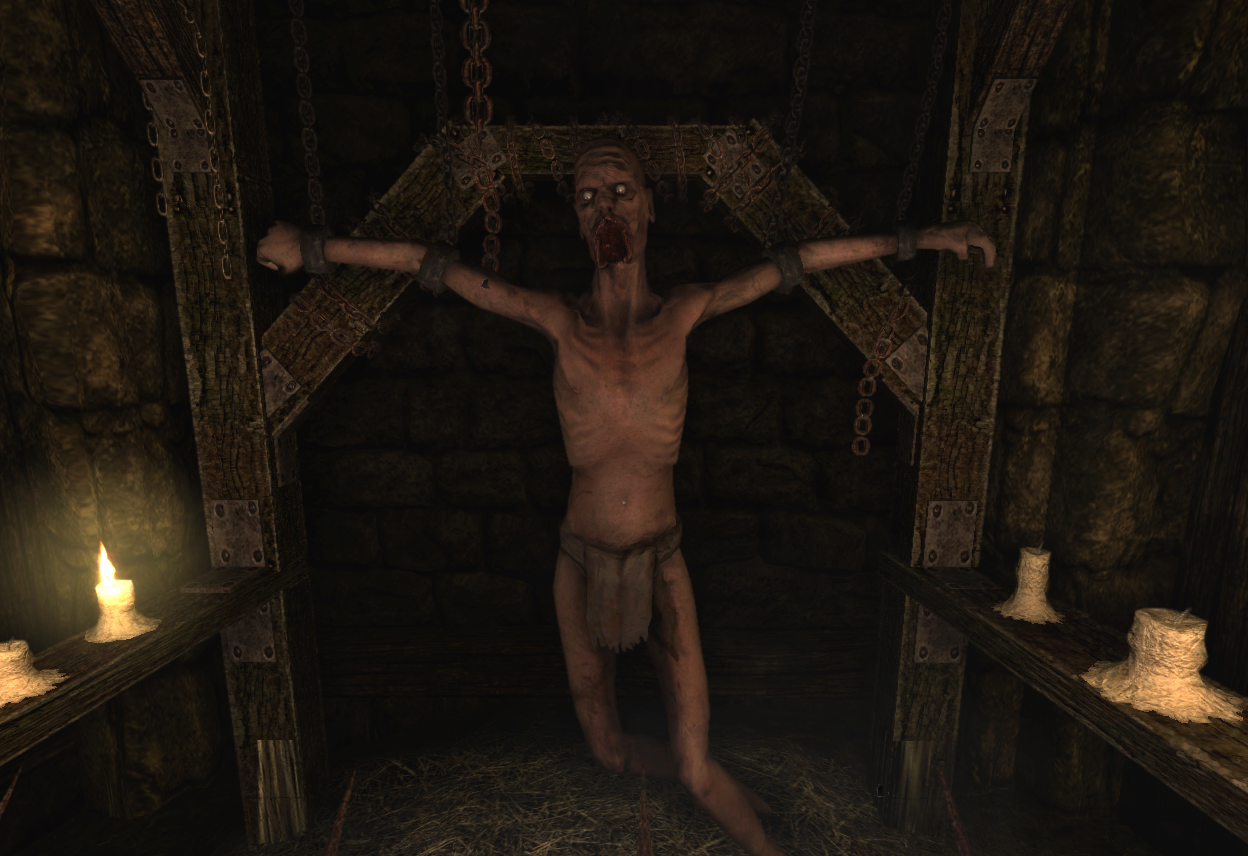 This is the nicest guy you ever meet in the game.
Here's where the ending of "Dark Descent" falls short of "Silent Hill 2." In the latter, the "good" and "bad" endings imply that whatever the protagonist chose in the end, they either reaped the benefits of a good decision or suffered due to a poor one. In "Descent", the "normal" ending sanctimoniously implies that by killing a man who had committed worse crimes than himself, Daniel's own crimes were absolved...even though he was driven by personal vengeance as opposed to altruism. The best of the three in my opinion is the "bad" ending, because Daniel gets what is coming to him. He blames Alexander incessantly for his mistakes, never accepting personal responsibility for his actions. No matter the ending, he doesn't
learn
anything, and so neither does the audience. The "normal" ending implies that it doesn't matter what you've done. No matter how self-serving or cruel your actions, thwarting another cruel or self-serving person is akin to wiping your own moral slate clean.
In every form of media, my favorite characters have all taught me something, and the same goes for my favorite stories. True, you might not be like me. You might be someone who prefers their stories to be brighter, to purely entertain. You might not care if a character or a story can teach you something or not. But let me say this, in defense of sad characters and sad stories: I have always, always, always found that the most satisfying entertainment came from characters whose stories compelled me to learn something, even if what I learned was a lesson about how I don't want to live my life.